Scifi Buzz
Posted by Ronald Mais on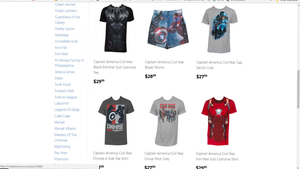 The
Avengers clothing line
is trending upwards due to the popularity of recent Marvel movies. Other types of superhero merchandise is really getting a lot of attention from consumers.
Posted by Ronald Mais on
Guardians of the Galaxy 2 star Scarlett Johansson clued us into the Black Widow's reaction to the Guardians of the Galaxy crew in the upcoming movie Avengers: Infinity War. She stated. "Somebody said to me the other day, they were like: 'Is Black Widow ready for the Guardians of the Galaxy?'" Johansson said during MTV's Happy Sad Confused podcast (via ibtimes). "The last time aliens descended on New York I think my character was like, 'Alright, I've seen it all. I'm good.' So I don't even think like a talking tree will faze her at this point." She added, "As...